The Woodside Golf Course Story
Our Mission
This is why Woodside exists.
Our goal is to instigate the creation of insanely outrageous stories. We are constantly creating and implementing highly unusual and unconventional ideas that deliver remarkable moments.
Incredibly good times result in stories that are shared over and over with friends. Stories about moments that were so hilarious, so exceptional, so sweet that they leave an impression that lasts forever. We create opportunities for you to achieve maximum enjoyment of life for the time shared at our facility.
The purpose of "Insanely Outrageous" is to encourage you to live life fully and completely in the moment. To invite you to participate in something unique, fun and surprisingly different. We are here to champion your opportunity to have an insanely outrageous time. Woodside provides you everything you've come to expect, like great amenities, fabulous food, refreshing drink, outstanding course conditions and friendly service. Where others stop, we are intent on pushing boundaries to provide you something different, something memorable, something insanely outrageous! You can book tee times somewhere else this year and have the same old song and dance, chip and putt, steak and beer, or you can book at Woodside and involve yourself in our story. A story that continually evolves, changes and isn't short of twists, turns and shockingly awesome surprises!
SHARE YOUR WOODSIDE STORY
Help us impact the lives of others by sharing the incredibly good times that you have had at Woodside. Entertain clients and you could find yourself as our featured group – complete with food samples and tour style sign standards, you'll be the most popular foursome on course. Our story is continually changing, it's completely random and outrageous different. So come live, laugh and love the experience at Woodside. Send us your
ideas and let us see if we can write them into our story for you or others to enjoy. We are intent on continuing to add chapters to our story in our effort to entertain and captivate.
What kind of story do you want to write?
---
Our Historic Story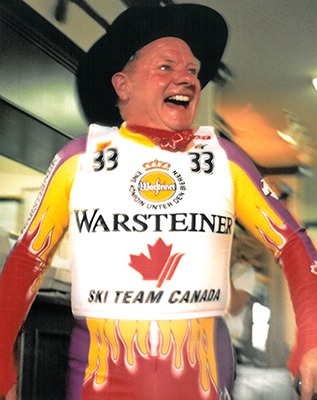 Woodside Golf Course opened for play in 1989, bringing the dream of its founder Otto Steiner to life. From the moment Otto saw this superb spread of land, he was determined to make his dream a reality. Enlisting renowned Canadian golf course architect William G. Robinson, together they thoughtfully shaped Woodside Golf Course through the rolling Alberta parkland and developed a quiet master-planned residential community around it.
Don't underestimate the 6,200 yard course, which winds through the community and around 9 water hazards. Featuring lush, challenging greens protected by numerous bunkers, the championship par-70 layout is a popular choice with professionals and amateurs alike.
Boasting 4 sets of tees and a full compliment of practice facilities, Woodside offers a complete golf experience. Woodside upholds the standards of championship play while providing a worthy challenge to players at every level. Currently celebrating its 29th season as one of the Calgary areas most popular places to play, Woodside is ideally located just north of the City of Calgary, only 10 minutes from the International Airport.
Today, Woodside Golf Course still reflects the spirit of its founder. Our team lives Otto's dream each and every day and is excited to share his ideals with you.
---

Welcome to Woodside's #NEVERLAYUP entertainment experience. All you have to do is complete the form below and you'll soon get advanced notice of news, events, promotions, and adventures! Thank you for joining us!